JUMP, JIVE and WAIL! will be held at The Flynn Hotel, 2a Bligh Street,
Sydney on Saturday 20th February.
*****UPDATE********

Well, this has been on the cards for a while now and after a meeting with The Flynn Management, a door charge for Jump, Jive and Wail will be introduced as of January 2016.

For 6 & 1/2 years, JJW has always been free entry and we have tried our best to keep it that way, however times have changed.

We are blessed to have one of the best venues in Sydney available to us with a massive dance floor on a Saturday night and a small door charge will now be implemented to help the venue cover running costs.
This additional revenue will also help ensure the future of JJW at The Flynn.
Entry will now be a nominal charge of $5.00.

We hope you all understand and look forward to your continued support of Jump, Jive and Wail!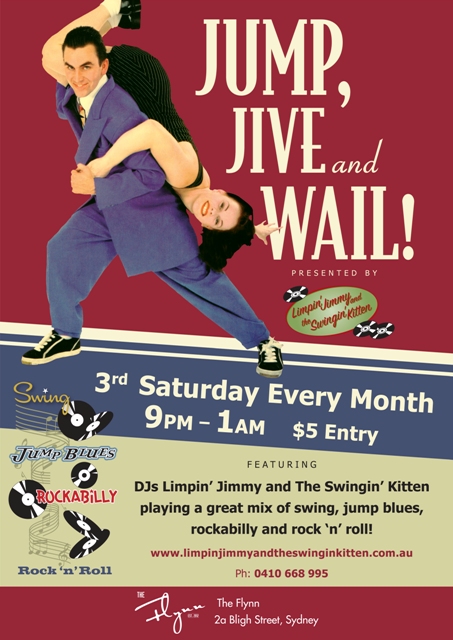 Coming Up:
Saturday 19th March
JUMP, JIVE and WAIL is a fabulous social and dance night of Swing, Jump Blues, Rock'n'Roll
and Rockabilly presented by DJ's Limpin' Jimmy and The Swingin' Kitten held on the
3rd Saturday of the month.
The Flynn is located under the Hotel Wentworth and i
s a very stylish venue with a large timber
dance floor, air conditioning and a lovely ambiance.
There is an extensive food and beverage menu so why not come and have a bite to eat there
before JJW? The kitchen will be open from 7pm to 9pm with some pizzas available after 9pm.

Come on down and join in the fun - have a dance, listen to great music, have a drink or 2,
catch up with friends and meet new ones!
The venue is also very close to all forms of public transport.
See you there!

Limpin' Jimmy and the Swingin' Kitten

www.limpinjimmyandtheswinginkitten.com.au

http://www.theflynn.com.au/