Updated Wednesday 29th October 2014
NEWSLETTER & GIG GUIDE FROM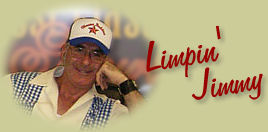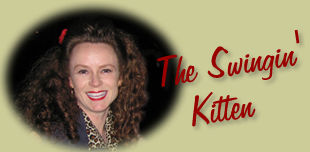 Hey there Guys'n'Gals,
We are very pleased to announce that we have found a new venue for JUMP, JIVE and WAIL!
We have permanently moved the event from The Lansdowne Hotel where we ran it successfully for just over 2 years. However it was time for a change and we have found what we think is the perfect venue.
So please come along on Saturday 15th November to JUMP, JIVE and WAIL!
at The Flynn Hotel, 2a Bligh Street, Sydney
9pm to 1am and free entry
Kitchen will be open from 6pm for dinner
JUMP, JIVE and WAIL! will now be held on the 3rd Saturday of every month at The Flynn.
____________________________________________________________________
IN THIS UPDATE:-
Jump, Jive and Wail! Saturday 15th November - The Flynn Hotel (NOW THE 3RD SATURDAY OF THE MONTH)

Rockabilly Dance Workshops - November dates

Cliff Dive Rockabilly night - every Thursday night - commencing Thursday 30th October

Warren Earl Band (QLD) - Friday 31st October - LazyBones, Marrickville & Saturday 1st November - Shady Pines, Darlinghurst

A Man called Stu - Sunday 2nd November - Midnight Special

Matt Black & The Phat Cats - Friday 7th November - Coogee Diggers

Speakeasy at the Three Chimneys - Sunday 9th November - Wollongong

Jonny Gretsch & the Wasted Ones - Sunday 16th November - Botany View Hotel

Papa Pilko and the Bin Rats - Friday 21st November - Lansdowne Hotel

Infernos & Sonyta - Saturday 22nd November - Matraville RSL

Ska BBQ - Sunday 25th January - Marrickville Bowling Club

Ray Beadle & the Silver Dollars - Every Thursday - Miss Peaches, Newtown

Wes Pudsey & The Sonic Aces - Gig Guide

Barrelhouse Boogie and Blues - every second Wednesday - Palmer & Co

Geoff Bull & The Finer Cuts - Marble Bar Thursday 25th September & East Sydney Hotel

ForeignDub every Sunday at The Newtown Hotel from 4pm

Ashfield RSL Gig Guide

Aston Martinis Gig Guide

No Brakes Gig Guide

Jive Bombers Gig Guide

Flaming Stars Gig Guide

Bellhops Gig Guide

Marrickville Bowling and Recreation Club Gig Guide

Swing Pit

Country Roads with Ronnie Boy on 2RRR

Sydney Blues Society Gig Guide
______________________________________________________________________________________

SATURDAY 15th November

JUMP, JIVE and WAIL!!

JUMP, JIVE and WAIL! will be held from 9pm to 1am at The Flynn Hotel, 2a Bligh Street, Sydney

on Saturday 15th November and entry is free.

The next few dates are as follows - pop them in your diary or planner!

Saturday 20th December

Saturday 17th January

JUMP, JIVE and WAIL is a fabulous social and dance night of Swing, Jump Blues, Rock'n'Roll and

Rockabilly presented by DJ's Limpin' Jimmy and The Swingin' Kitten held on the 3rd Saturday of the month.

The Flynn is located under the Hotel Wentworth and i

s a very classy venue with a large timber dance floor, air conditioning and a lovely ambiance. The kitchen will be open from 6pm and they have a great menu available.

The venue is very close to all forms of public transport.

Come on down and check out our new venue!

Limpin' Jimmy and the Swingin' Kitten

www.limpinjimmyandtheswinginkitten.com.au

http://www.theflynn.com.au/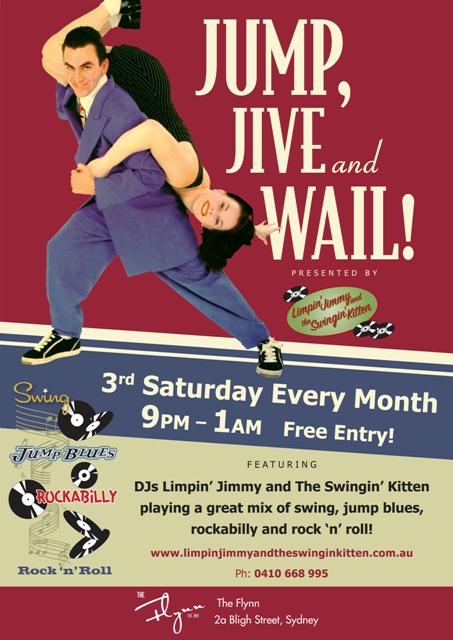 Our favourite comment after our "Jumpin' at The Flynn" night,
"It's just like Hotel Chambers but better"!
__________________________________________________________________________________

with

Limpin' Jimmy and The Swingin' Kitten.
"Image by www.redpeppergraphics.com.au"
Beginner Rockabilly Dance Workshops
Dates:
Sunday 2nd November 2014 - 1pm to 4pm
Beginner Refresher Rockabilly Dance Workshops
Dates:
Sunday 23rd November 2014 - 12 noon to 1:30pm
Intermediate Rockabilly Dance Workshops
Dates:
Sunday 23rd November 2014 - 2pm to 4pm
Location:
St Stephen's Church Hall, 189 Church Street, Newtown. (opposite Mechanic Street)
Further Details: