Updated Thursday 20th November 2014
NEWSLETTER & GIG GUIDE FROM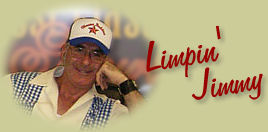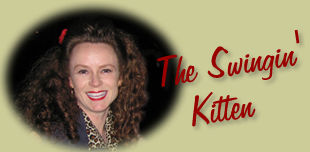 Hey there Guys'n'Gals,
IN THIS UPDATE:-
Jump, Jive and Wail! Saturday 20th December - The Flynn Hotel (NOW THE 3RD SATURDAY OF THE MONTH)

Rockabilly Dance Workshops - November dates

Cliff Dive Rockabilly night - every Thursday night - commencing Thursday 30th October

Pat Capocci - Friday 21st November - Annandale Hotel

Papa Pilko and the Bin Rats - Friday 21st November - Lansdowne Hotel

Blues Rock Extravaganza - Friday 21st November - Valve Bar

Ray Beadle - Saturday 22nd November - Marble Bar

Infernos & Sonyta - Saturday 22nd November - Matraville RSL

Blackhill Ramblers (VIC) - Friday 28th November to Sunday 30th November - Sydney gigs

White Christmas Ball - Saturday 6th December - Balmain Town Hall

Ska BBQ - Sunday 25th January - Marrickville Bowling Club

Rockabilly Big Day Out - Sunday 25th January - Rocks Brewing Company, Alexandria

Ray Beadle & the Silver Dollars - Every Thursday - Miss Peaches, Newtown

Tequila Twins - Every Sunday - The Corner House, Bondi

Barrelhouse Boogie and Blues - every second Wednesday - Palmer & Co

Geoff Bull & The Finer Cuts - East Sydney Hotel

Rock Lily gig guide

Ashfield RSL Gig Guide

Aston Martinis Gig Guide

No Brakes Gig Guide

Jive Bombers Gig Guide

Flaming Stars Gig Guide

Bellhops Gig Guide

Marrickville Bowling and Recreation Club Gig Guide

Swing Pit

Country Roads with Ronnie Boy on 2RRR

Sydney Blues Society Gig Guide
______________________________________________________________________________________

SATURDAY 20th December

JUMP, JIVE and WAIL!!

JUMP, JIVE and WAIL! will be held from 9pm to 1am at The Flynn Hotel, 2a Bligh Street, Sydney

on Saturday 20th December and entry is free.

The next few dates are as follows - pop them in your diary or planner!

Saturday 17th January

Saturday 21st February

JUMP, JIVE and WAIL is a fabulous social and dance night of Swing, Jump Blues, Rock'n'Roll and

Rockabilly presented by DJ's Limpin' Jimmy and The Swingin' Kitten held on the 3rd Saturday of the month.

The Flynn is located under the Hotel Wentworth and i

s a very classy venue with a large timber dance floor, air conditioning and a lovely ambiance. The kitchen will be open from 6pm and they have a great menu available.

The venue is very close to all forms of public transport.

Come on down and check out our new venue!

Limpin' Jimmy and the Swingin' Kitten

www.limpinjimmyandtheswinginkitten.com.au

http://www.theflynn.com.au/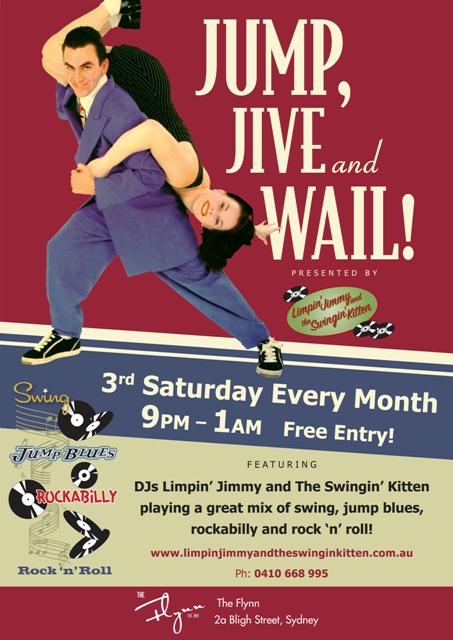 Our favourite comment after our "Jumpin' at The Flynn" night,
"It's just like Hotel Chambers but better"!
__________________________________________________________________________________

with

Limpin' Jimmy and The Swingin' Kitten.
"Image by www.redpeppergraphics.com.au"
Beginner Rockabilly Dance Workshops
Dates:
Beginner Refresher Rockabilly Dance Workshops
Dates:
Sunday 23rd November 2014 - 12 noon to 1:30pm
Intermediate Rockabilly Dance Workshops
Dates:
Sunday 23rd November 2014 - 2pm to 4pm
Location:
St Stephen's Church Hall, 189 Church Street, Newtown. (opposite Mechanic Street)
Further Details: