Updated Tuesday 24th May 2016
NEWSLETTER & GIG GUIDE FROM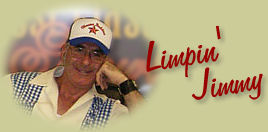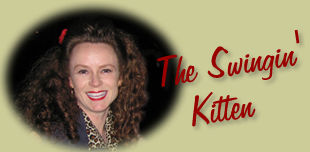 Hey there Guys 'n' Gals,
Well "Wailers", after much anguish on the part of The Swingin' Kitten and myself about the numbers for the return of Jump, Jive and Wail on Saturday 21st May, you came along and packed The Flynn for another great JJW.
Thank you all for your support. Considering the other events which were on that night, you surely voted JJW as one of your favourite monthly events.
IN THIS UPDATE:-
Jump, Jive and Wail! NEXT JJW Saturday 18th June

That Red Head - Thursday 26th May - Miss Peaches, Newtown

Flattrakkers - Saturday 28th May - Ashfield RSL

Lucky Luke & His Shooting Stars - Sunday 29th May - Oxford Tavern, Petersham

Cruisin' Deuces at Hootenanny Sunday - Sunday 29th May - Miss Peaches, Newtown

Rock 'n' Roll & Alternative Markets - Sunday 5th June - Manning Bar and Manning House, Sydney University

Dan Barnett - Sunday 5th June - The Workers Balmain

Throttle Roll - Sunday 12th June - Railway Parade, Marrickville

Rockabilly Thursday at Rock Lily - Thursday 23rd June - The Rechords (VIC)

Stray Dogs - Sunday 26th June - Merton Hotel, Rozelle

Satellite V - Sunday 3rd July - Shady Pines, Darlinghurst

Geoff Bull & The Finer Cuts - East Sydney Hotel

Don Hopkins Gig Guide

Ashfield RSL Gig Guide

Aston Martinis Gig Guide

No Brakes Gig Guide

Jive Bombers Gig Guide

Sydney Blues Society Gig Guide
______________________________________________________________________________________
SATURDAY 18th June
JUMP, JIVE and WAIL!!
JUMP, JIVE and WAIL! will be held at The Flynn Hotel, 2a Bligh Street,
Sydney on Saturday 18th June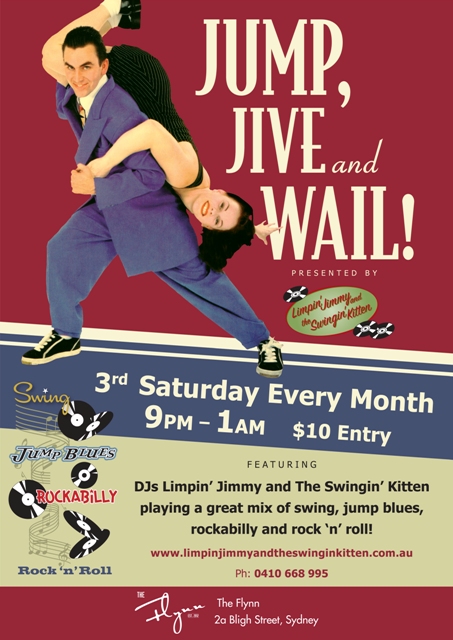 JUMP, JIVE and WAIL is a fabulous social and dance night of Swing, Jump Blues, Rock'n'Roll
and Rockabilly presented by DJ's Limpin' Jimmy and The Swingin' Kitten held on the
3rd Saturday of the month.
The Flynn is located under the Hotel Wentworth and i
s a very stylish venue with a large timber
dance floor, air conditioning and a lovely ambiance.
There is an extensive food and beverage menu so why not come and have a bite to eat there
before JJW? The kitchen will be open from 7pm to 9pm with some pizzas available after 9pm.

Come on down and join in the fun - have a dance, listen to great music, have a drink or 2,
catch up with friends and meet new ones!
The venue is also very close to all forms of public transport.
See you there!

Limpin' Jimmy and the Swingin' Kitten

www.limpinjimmyandtheswinginkitten.com.au

http://www.theflynn.com.au/