After fabulous support since the fire closed the Lansdowne Hotel, the new Management is very happy to have
Jump, Jive and Wail! - NEXT DATE - FRIDAY 20th December

Rockabilly Dance Workshops - February and March dates

Sons of Sun - The Sam Phillips Story - Friday 29th November - Bridge Hotel, Rozelle

Lucky Luke - Saturday 30th November - Shady Pines

Rock n Roll and Alternative Markets - Sunday 1st December - Manning Bar / Manning House

Dan Barnett Big Band - Sunday 1st December - Unity Hall Hotel, Balmain

Matraville RSL Gig Guide

Drey Rollan Band - December Gig guide

Dale Watson & His Lonestars - Saturday 7th December - Factory Theatre

Rockhouse - Saturday 14th December - Clarence Hotel

Sinatra Rocks the Basement Christmas Special - Saturday 21st December - The Basement

Torque Bar & Grill Gig Guide

Big Band Tuesdays at the Basement

Ray Beadle & the Silver Dollars - Every Thursday - Miss Peaches, Newtown

Peter Phillips-Vass Gig Guide

Greg Poppleton and the Bakelite Broadcasters and The Lounge Bar Lotharios Gig Listings

Barrelhouse Boogie and Blues - every Wednesday - Palmer & Co

Geoff Bull & The Finer Cuts - Corridor, Newtown & East Sydney Hotel

Rock Lily Gig Guide

Strictly Swingin' at Dome

Ashfield RSL Gig Guide

Aston Martinis Gig Guide

No Brakes Gig Guide

Jive Bombers Gig Guide

Flaming Stars Gig Guide

Marrickville Bowling and Recreation Club Gig Guide

Swing Pit

Country Roads with Ronnie Boy on 2RRR

Sydney Blues Society Gig Guide
______________________________________________________________________________________
JUMP, JIVE and WAIL!!
FRIDAY 20th December
JUMP, JIVE and WAIL is a fabulous social and dance night of Swing, Jump Blues, Rock'n'Roll and
Rockabilly presented by DJ's Limpin' Jimmy and The Swingin' Kitten.

Come on down and join in the fun - have a dance, listen to great music, have a drink or two, catch up
with friends and meet new ones!
You provide the dancing feet, the venue provides the style and we provide the music!

Free entry and 10pm start - see all you crazy cats 'n' kittens there!

Limpin' Jimmy and the Swingin' Kitten

www.limpinjimmyandtheswinginkitten.com.au

Pop it in your diary folks! Friday 20th December
10pm to 2am and still FREE ENTRY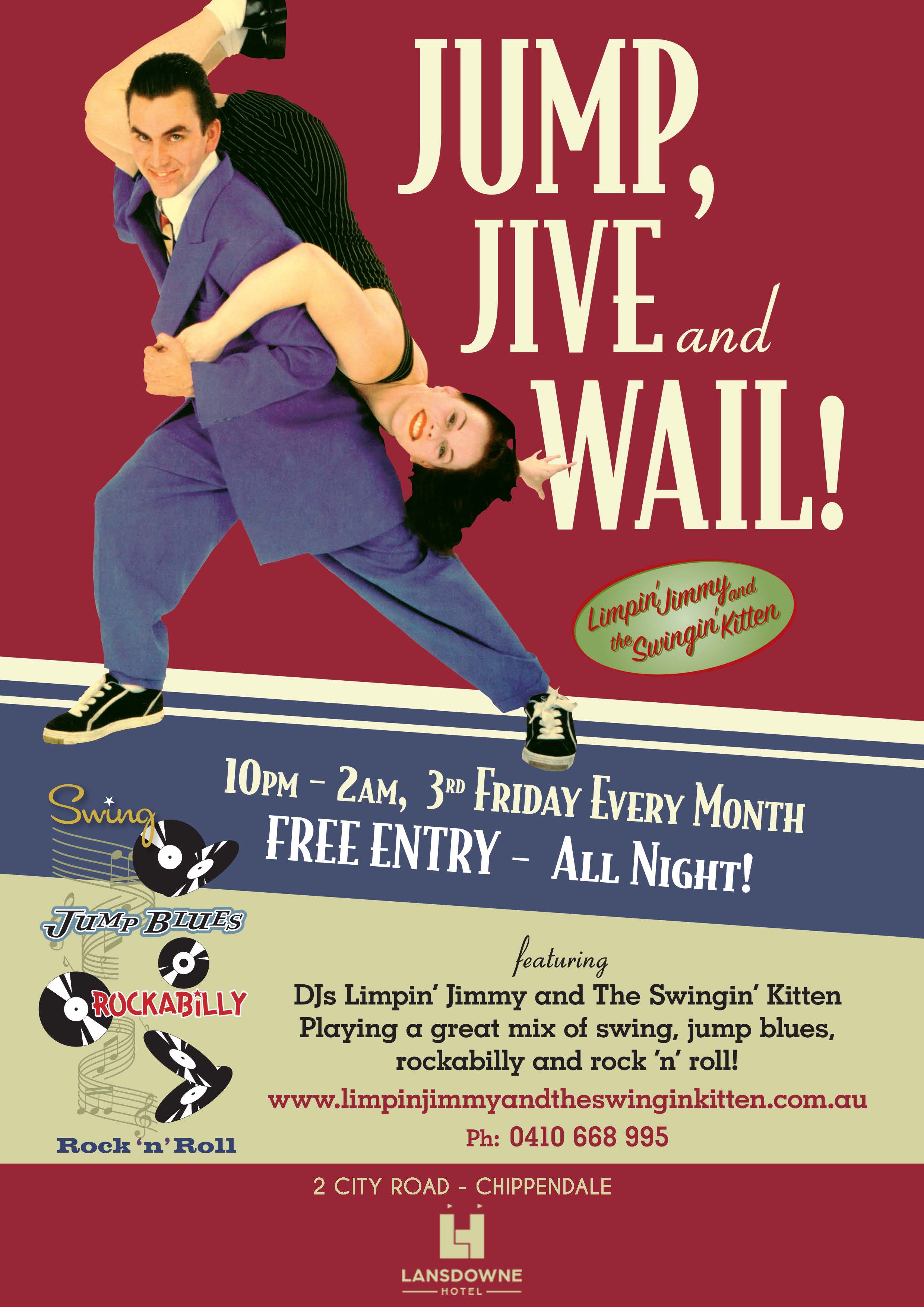 Level One, The Lansdowne Hotel


Corner of City Road and Broadway, Sydney
Fabulous venue, timber floor, great atmosphere with lounge areas and absolutely perfect for
JUMP, JIVE AND WAIL!

10pm to 2am
Free entry!
__________________________________________________________________________________

with
Limpin' Jimmy and The Swingin' Kitten.
"Image by www.redpeppergraphics.com.au"
Beginner Rockabilly Dance Workshops
Dates:
Sunday 2nd February 2014 - 1pm to 4pm
Sunday 16th March 2014 - 1pm to 4pm
Beginner Refresher Rockabilly Dance Workshops
Dates:
Sunday 23rd February 2014 - 12 noon to 1:30pm
Sunday 30th March 2014 - 12 noon to 1:30pm
Intermediate Rockabilly Dance Workshops
Dates:
Sunday 23rd February 2014 - 2pm to 4pm
Sunday 30th March 2014 - 2pm to 4pm
Location:
St Stephen's Church Hall, 189 Church Street, Newtown. (opposite Mechanic Street)
Further Details: