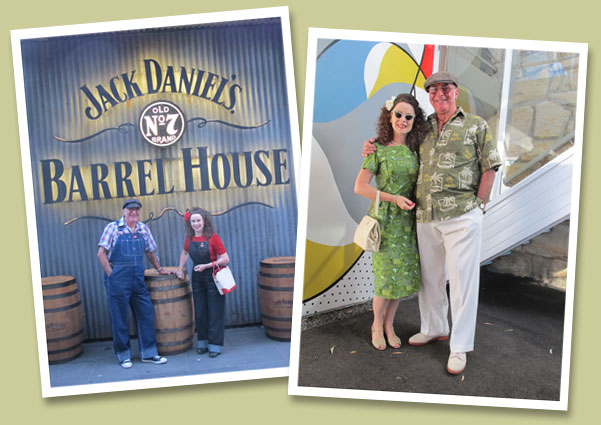 About Us:
We are a stylish, professional and mature couple who have a passion for music from the past. We both have a lifetime of musical appreciation which we have brought together to become a successful DJ team.
We have been DJing at a diverse range of public and private events for over a decade now. These events include weddings, birthday and engagement parties, corporate events, Christmas Functions, music festivals (local and interstate), car shows, club and hotel events. We have also supported international acts Royal Crown Revue (USA), Big Bad Voodoo Daddy (USA), Barbara Morrison (USA) and the 1950's Queen of Rockabilly, Wanda Jackson (USA).
High profile local events we have DJ'd for include the annual 1950's Fair Day at the historic Rose Seidler House at Wahroonga, the annual Gangsters' Ball held at the Metro Theatre, Sydney Festival, MCA Art Bar held at the Museum of Contemporary Art and we are regular DJs at the Rock 'n' Roll & Alternative Markets held at the Manning Bar at Sydney University.
We also presented a monthly event called "Jump, Jive and Wail" for over 8 years held at various venues including the Chambers Hotel in the CBD; the Lansdowne Hotel in Chippendale; The Flynn Hotel in the Sydney CBD and finally at the Celebrity Lounge at the City Tattersalls Club. We played a diverse mix of jump blues, swing, rock 'n' roll and rockabilly which was very popular with dancers and non-dancers alike. The event grew in attendance and was always a highlight in the social calendar.
Our Music Collection:
We have an extensive and ever growing collection of music and our main music library covers eras and genres such as: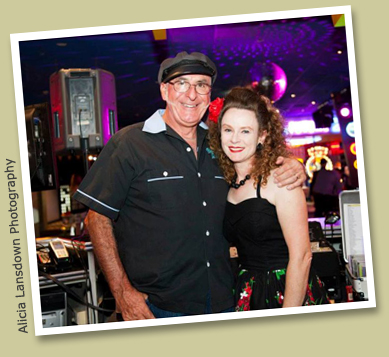 Lounge and Cocktail

Jazz, Swing and Blues

Rock 'n' Roll

Rockabilly, Jump Blues and Doo Wop

1930's, 1940's, 1950's , 1960's
We have a smaller collection of genres such as:
Country and Western Swing

Motown and Soul

Classic Rock, Ska and Reggae

Classic 70's, 80's and 90's Dance Party Hits
Our Equipment:
We have a wide range of professional and excellent quality equipment which can cover all events and venue specifications. The brands we have include Denon, Peavey, AKG and Sound King. Our equipment includes dual CD players, mixing desk, powered and passive speakers, powered amplifier, sub woofer, hand held microphones and stands, hand held cordless microphone and receiver, head microphones with transmitters and receivers and some basic lighting effects.
Whether your event is to be held in a large function room or a smaller intimate space, we are well equipped to provide a set-up to suit the venue, event and your specific requirements.
Our DJ Services:
After a detailed discussion about your event and expectations, we will tailor the music to your individual requirements. We will create a great atmosphere to ensure your event is successful and that your guests will have a great time.
Our Dance Lessons:
We can provide an extra service of a 1950's style group dance lesson. This can be a great ice-breaker at a wedding reception, Christmas function or corporate event and will also be a fun and enjoyable way to introduce guests to each other.
We have been dance teachers for 17 years and have taught dancing at our own regular rockabilly dance workshops, Christmas events, wedding receptions, high school functions, market days and hen's parties.
Testimonials:
We have received many testimonials for our DJing services over the years. Please click on this page to read the great reviews!
http://www.limpinjimmyandtheswinginkitten.com.au/testimonials.html
Past events:
Please click on this page to see our past events which we have presented and other events which we have been involved with.
http://www.limpinjimmyandtheswinginkitten.com.au/past_gigs.html
Contact:
If you would like to enquire about DJ services, please contact:
Swingin' Kitten on 0410 668 995 or email - swinginkitten@primusonline.com.au
Limpin' Jimmy on 0419 498 578 or email - limpinjimmy@primusonline.com.au